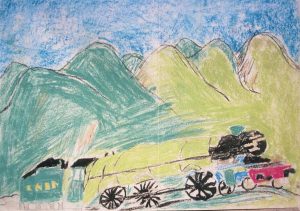 Pastel on paper
When we were kids my brother had a keen interest in railways. As well as messing about with electric model trains, making a layout with a station, sidings and landscape features, he also read avidly about the history of railways. Consequently days out were spent quite often at tourist railway sites then under construction. Wearing stout Wellingtons we would tramp around, muddy, sooty railway sites begging a ride on the footplate. York Railway Museum was not the clean smart site it is now outside the main sheds and the Tanfield railway was positively filthy. We also were lucky enough to have a Grandma who lived in Barmouth in Wales; this gave us a good excuse to ride on all the nearby narrow gauge railways that wind through the Welsh hills. I loved these days out and could understand my brothers enthusiasm and what drove the people who were helping to restore this part of our heritage with the gift of so much of their free time.

One of the high points of these days out was watching the Flying Scotsman speed past on its way to Scotland full of passengers in period costume waving at the crowds that stood cheering. Little wonder then that I produced this pastel drawing and the accompanying Stevenson's Rocket for my brother to pin up in the bedroom.
STEPHENSON'S ROCKET
Pastel on paper
It's no wonder everyone was so impressed with how fast his engine could go, if it came down a hill like that on its show trial !