Painting a basic beach scene is not difficult if you keep it simple and uncluttered, but the more dynamic beach paintings often reflect the shapes left in the sand by the sea. The patterns within the image are seductive as you wind your way around the picture following the changes in direction and implied perspective.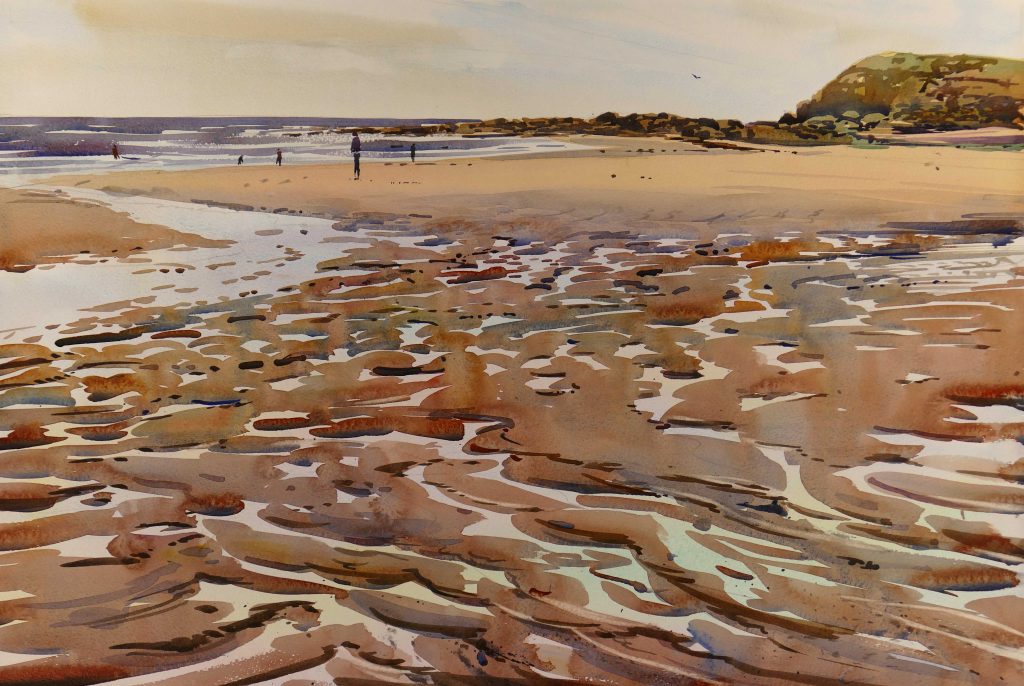 This course explores the methods Jason has developed to render sometimes complex patterns in the sand with a limited number of marks. You will also examine the direction of movement and perspective structure that underpins the picture. In other words – he will expain how and why the marks and methods he uses work within beach scene painting.
Medium
Students are fee to use any of the following mediums on this course: watercolour, gouache or acrylic.
Level
This course would suit a relative beginer and the more experienced painter who is looking to tune their beach painting skills.
The classroom
Each student will have their own desk. The room will be well ventilated by leaving the windows open. The room will be carefully cleaned down before your arrival. Face coverings [ masks] must be worn by the tutor and students while in the building.
Working within the restrictions of a Covid 19 safe classroom, Jason will be demonstrating on a large scale at the front of the room so that all can see from their individual tables. You will be undertaking exercises set by Jason and then interpret photographic reference to create your own beach scene paintings using the ideas shown.
Location – Newcastle Arts Centre > see panel to right
Length of the course – 5 weeks
This course starts on the 9th of September
Costs £70
Time – Wednesday from 1:45 till 3:45
Dates to attend:
9th, 23rd, 30th September
7th, 14th October
Please note: There will be no class on the 16th of September
Why does Jason think this course would be of value to you as a watercolour painter ?
This course will help you understand the basics of perspective, the value of using various sizes of marks to add depth and the value of directionally driving the viewer through an image to strengthen the composition.
What will you do on the course ?
Examine photographs of beaches provided by Jason discussing their structure
Undertake several exercises to better understand how to paint shapes in the sand on beaches
Create a finished painting of a beach concentrating on the shapes in the sand, using ideas looked at on the course
What do you need to bring ?
Reference material will be provided, but you may wish to bring your own images to work from. You will need to bring drawing paper, a pen and pencil, eraser and sharpener, your painting kit and some watercolour or acrylic paper to the first lesson.