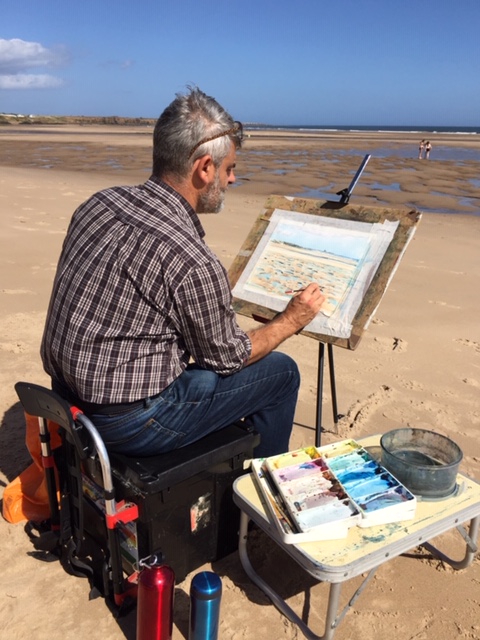 Want to get back to art ?
Then why not take an outdoor painting / sketching class ? Government scientists have advised us that fresh air greatly reduces the risk of catching covid 19. Working outdoors would enable you to meet up with your art friends or meet new like-minded artists.
Cambios beach, Blyth is a great place to start. Why ? Well, parking is right next to the beach so it's easy to get onto the sands. Cambios is a dog walkers beach. You will always see people on the sands with their dogs making interesting subjects for the sketcher.
Subject
On the first session at this location we consentrated on painting shapes in the sand to capture the look of the sand pools. This session will look at tuning your skills at painting the sky directly from nature and drawing and painting figures and dogs.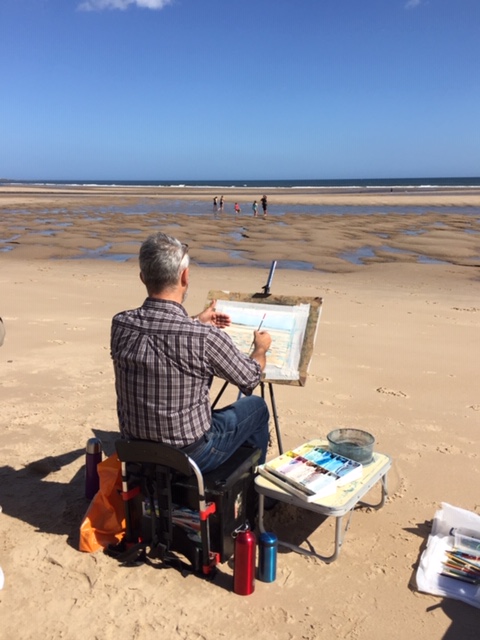 The Charlton bar and restaurant, which is within 50 yards, sells tea and coffee, fish and chips and has toilet facilities. It uses a one way system and follows a 'safe' approach to dealing with customers.
Look at the location – visit this link on goodle maps: here
The address is: Charltons bar and restaurant, Cambois, Blyth NE241SF
How much does it cost ?
£20
How many places are available?
5
When?
Tuesday the 1st of September
Days out run from 10:30 – 2:00
Or you can pay with a cheque payable to Painting with Skill, and sent to:
Do you need to book the class ?
Yes
Where do we meet ?
We will meet at 10:30 in the car park that leads down to the beach opposite Charltons bar and restaurant
What if the weather is poor ?
We are always going to be ruled by the weather. If it is raining or we have high winds Jason will not be going. Otherwise he will be teaching. Check the weather forecast.
If the forecast is poor he may cancel the session. If the class is cancelled, he will contact you the night before by email using the address you provided when purchasing the course online. Check your email before you set off in the morning. If you purchase the painting / sketching day by post using a cheque, please remember to include your contact details or he will be unable to inform you of a cancellation.
You will be refunded for classes Jason has to cancel due to poor weather.
Lost or unsure about the weather?
If you need clarification as to the location of the venue or the weather forecast then you can phone Jason on – 07482470197
What will you need to bring with you ?
Jason has made two lists, one for sketchers and one for painters – click below: