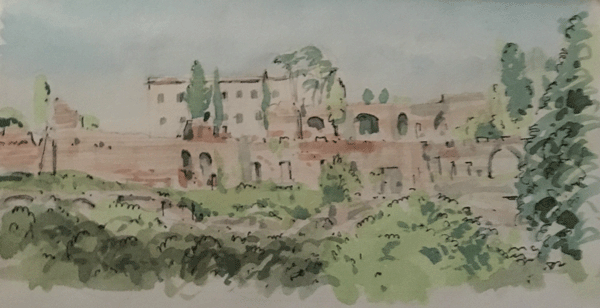 Subject: Watercolour with pen and wash is the 'go-to' method for artists looking for a quick way to note down the structure, colour and tone of a scene in their sketch books. It requires minimal equipment, so it's easy to travel with enough materials to fit in a small bag or large coat pocket. It's also considered a low cost way to take those first steps from drawing to painting. So it's no surprize that sketching groups are to be found all over the county, often exploring drawing in cities and in the country, then sharing their work while they enjoy coffee and cake.
This course offers you a chance to explore some of the methods commonly used by 'sketchers,' combining traditional line and wash styles with more modern drawing and painting methods suited to working outdoors, using a sketch book, ink pens and watercolours.
What will you do on the course ?
learn how to produce light touch watercolours
explore how to match tonal values with those found in your reference material
discover how to plan your images to save time and heartache
discuss how professional artists use pen and wash and watercolour to illustrate buildings, scenes and figures
learn how to edit down a scene to its most basic usable form
explore using decorative mark making to make more exciting, explanatory drawings
creating a finished pen and wash and watercolour drawing
Length of the course – 5 weeks
Starts – Tuesday 7th of January 2020
Refreshments – tea and coffee is included.
Level – beginners
Time – 1:45 pm – 3:45pm
2 hours per lesson
Paint medium – Watercolours
Costs £60
Dates to attend:
Course dates: January 7th, 14th, 21st, 28th , February 4th 2020
What will you need to bring to the first class?
A fine liner, a pencil, eraser, pencil sharpener, watercolour pan set, a watercolour brush, water pot and a sketch book.
The location Venue: St. Georges Church Hall, St George's Close, Jesmond, Newcastle upon Tyne NE2 2TF
See panel on right for details of the venue with Maps and directions
How can you book a place on the course ?
By clicking on the BUY NOW button below and following the payment procedures you will book your place on the course.
Why not buy this workshop as a gift for friends and family ?
Course cost – £60
If you are unable to purchase the course online then please send a cheque for £60, made payable to: Painting with Skill to:
Places will be allocated on a first come first served basis. To avoid disappointment – book early. Edit