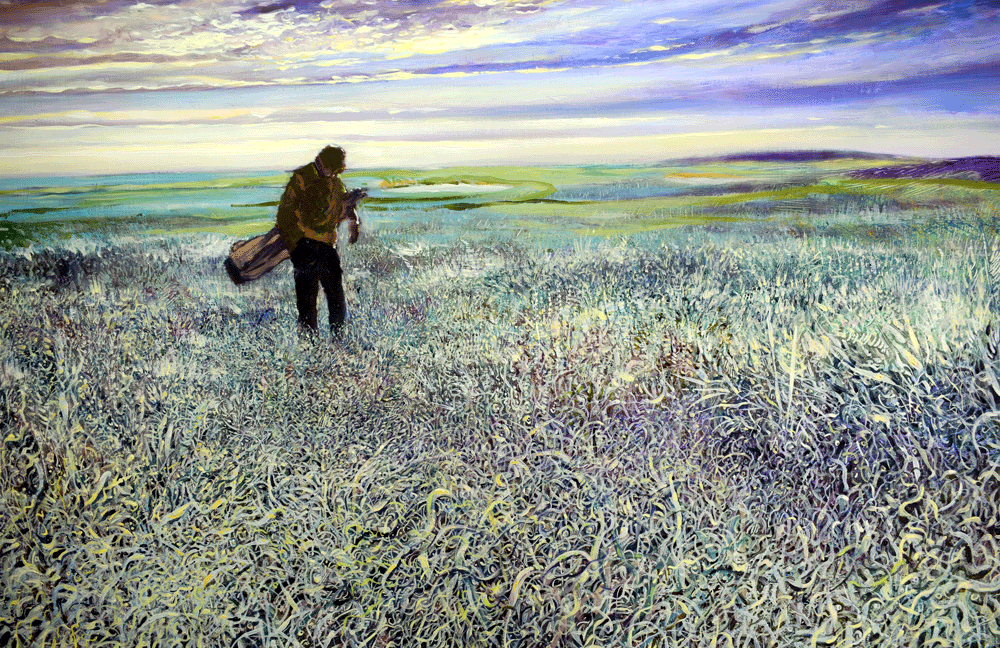 Foregrounds are one of the most tricky sections of painting landscapes. Because of this, they are often the weakest area of an artists output. Many choose to fudge out this section of the picture, making it blurred and nondescript. Others choose to ignore the forground entirely creating sketchy pictures with no discernible edges. 'The lost ball' illustrates how foreground grasses can be turned from the ordinary into the extraordinary, twisting and intertwining, alive with movement. Here they are the main focus of the artwork, but this is uncommon. A happy mixture of small hints at detail and some blurring to avoid hours of work are the ideal 'half-way house' approach to foreground grasses and scrub painting. This way of working will be the focus of this four week course. In the course we will look at the basics mechanics of handling acrylics: diluting and mixing colours, layering paint using thick and thin colour, producing some basic landscape and still life imagery on watercolour and acrylic painting paper.
This course would suit those who have a little experience with painting with acrylics.
I believe that a teacher should be enthused by the medium they paint with. A tutors passion for a type of paint helps build the students love for the medium. At this moment in time I am mad about acrylics. After a 30 year gap – I created my final show using them at Newcastle University in 1988 – I have re-discovered acrylics and simply adore the new high quality paints that are now on the market, transforming what I felt was an underperforming paint into a A1 product.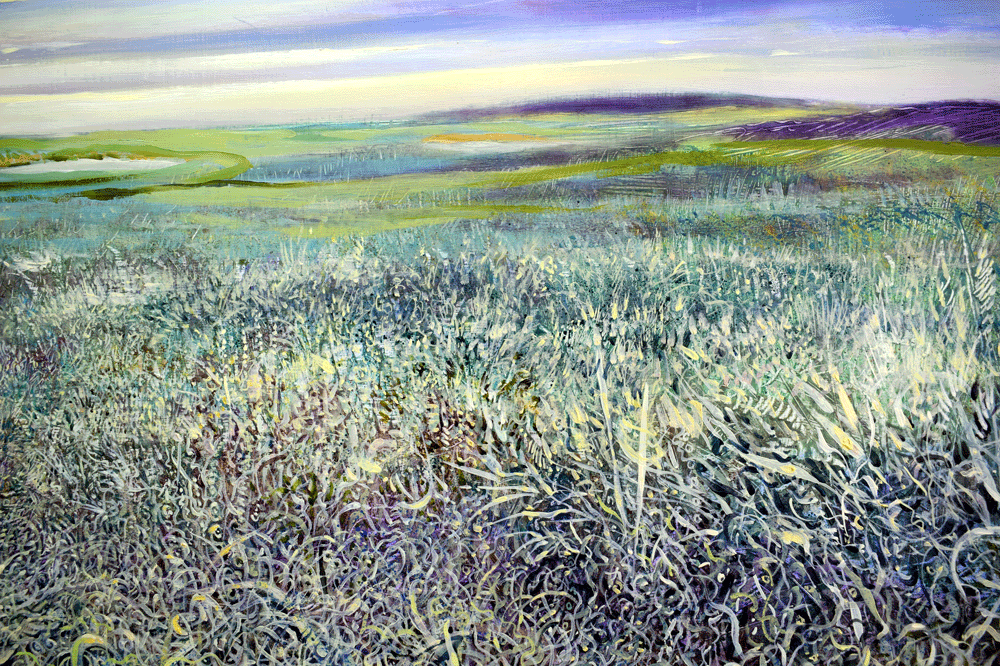 'Painting foreground grasses and scrub in acrylic'
Wednesdays from 1:30 till 3:30 pm – Costs   £55
Length of the course – 4 weeks
Starts 1st of May
Refreshments – tea and coffee is included.
Level – suited to those who have a little experience of acrylic painting.
Dates to attend: 1st, 8th, 15th, 22nd of May
What will you need to bring to the first lesson ?
Acrylic paints
A water pot
A flat mixing palette – this could be a disposable palette.
A round nylon brush – size 8
A round nylon brush – size 2 or 3
A flat nylon brush – size 8
A few sheets of Kitchen roll
A few sheets of watercolour paper or acrylic painting paper – A3
A pencil, eraser and a biro.
The location: Newcastle Arts Centre
The Arts Centre offers you some of the best art studio facilities in the North East region. It also has on site an art shop, a craft shop, an art gallery, a framer and Café to relax in and grab a coffee and bite to eat after class. The studios are situated on the 2nd floor with lift access provided for those who have mobility issues.

See panel on right for photos, Maps and directions
Jason will advise you each week about the materials you will need for the following session. Anyone unable to attend a lesson should contact him by email and he will advise them on the the materials or reference material needed for the following class.
Email contact info@jasonskill.com
How can you book a place on the course ?
Course cost – £55
By clicking on the BUY NOW button below and following the payment procedures you will book your place on the course.
Why not buy this workshop as a gift for friends and family ?
If you are unable to purchase the course online then please send a cheque for £55, made payable to:
Places will be allocated on a first come first served basis. To avoid disappointment – book early.
Painting With Skill Limited, Company No. 5763767, a company registered in England and Wales. Registered address: Sikehead, Woodside Lane, Ryton, Tyne and Wear, NE40 3ND