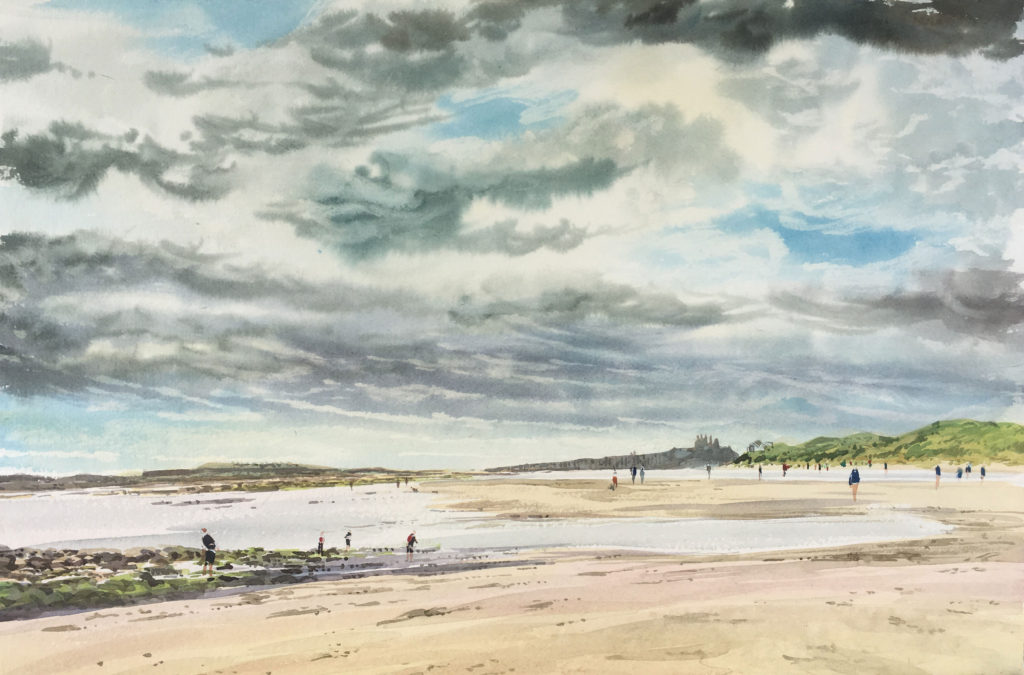 This course, which covers the basics of handling watercolour when painting beaches with simple small figures, will look at how to layer a watercolour painting to create depth and show the differring looks of wet and dry sand as well as illustrating a headland. It will also look at how to draw and paint small figues to add scale and character to your work. By the end of the course students will be able to paint a beach scene which includes small figures.
If you have tried drawing and feel you would like to move on to painting, watercolour is often the medium that people try first. It's lightweight, does not smell and takes up little space in the house. It's also the medium chosen by many sketchers to add colour to their drawings when working outdoors or at home.
You don't need to have learnt to draw before you try painting with watercolour. Many students Jason has taught over the years have learnt to paint with watercolours before they went on to undertake basic drawing courses to tune their artistic production.
Of you have not painted at all before, Jason will initially provide materials for the first couple of weeks while tyou put together a basic painting kit. He will show you the materials you will need on the course in week one, talking you through the materials on offer so that you can make an informed choice when visiting an art store or shopping online. A full list of materials will be provided at the first class.
Length of the course – 6 weeks
Starts – 11th of June
Refreshments – tea and coffee is included.
Level – beginners
Time – 11:00 am – 1:00pm

2 hours per lesson

Paint medium – watercolours
Costs £72
Dates to attend:
June 11th, 18th, 25th July 2nd, 9th, 16th

What will you do on the course ?
Discuss the uses and costs of watercolour materials
Learn to layer your paint layers to achieve a more three dimensional look to your landscapes.
Create graded washes to help illustrate depth when laying down the basic land forms.
Paint shapes and marks that look like sand, water and sand dunes
Draw and paint small figures
Paint a finished beach scene with figures
What will you need to bring ?
A pen, pencil and note book. If you already have done watercolour painting equipment – then bring this along to the first session please.
The location Venue: St. Georges Church Hall, St George's Close, Jesmond, Newcastle upon Tyne NE2 2TF
See panel on right for details of the venue with Maps and directions
How can you book a place on the course ?
By clicking on the BUY NOW button below and following the payment procedures you will book your place on the course.
Why not buy this workshop as a gift for friends and family ?
Course cost – £72
If you are unable to purchase the course online then please send a cheque for £72, made payable to: Painting with Skill to:
Places will be allocated on a first come first served basis. To avoid disappointment – book early.