This five week course looks at some of the key techniques and approaches used by artists who paint the sea using acrylic that help capture the movements and transparency of the water.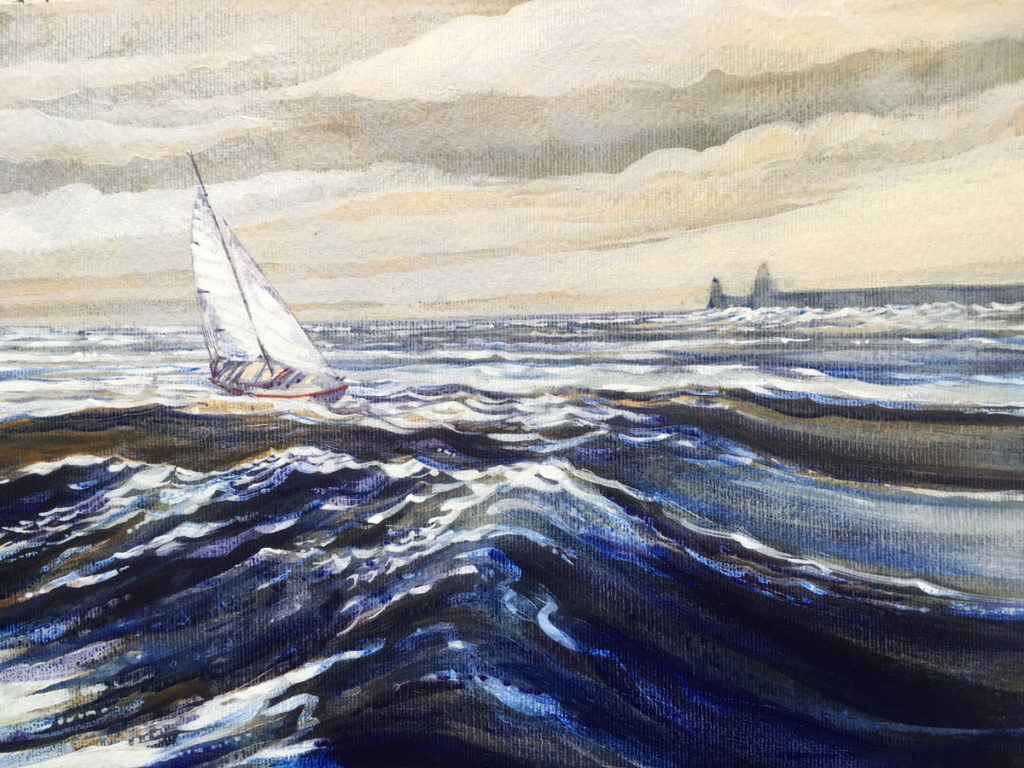 Length of the course – 5 weeks
Starts 27th of Feb 2019
Time –  Wednesdays from 1.30pm till 3:30pm  
Costs £68 – includes tea and coffee – provided by Newcastle Arts Centre cafe.
Level – suited to those who have a little experience of acrylic painting.
Dates to attend:
27th of February
6th, 13th, 20th 27th of March
Why does Jason think this course would be of value to you as an acrylic painter ?
Acrylic is a great medium to use to paint seascapes because of its flexibility: it can be used thickly, enabling you can create textures to mimic tumbling foam, and you can use it thinly to capture the translucence of more glassy sections of water or colour within the white foam, by building up layers of thinly applied glazes. It is therefore a great subject to explore using both thick and thin paint, advancing your understanding or paint applications.
After painting a number of seascape images painters often have a better understanding of the need to incorporate rhythm within their work by linking aspects of the design or mark making.
What will you do on the course ?
It is planned that over the five weeks you will explore the following:
Editing a photograph to make usable reference to make a strong composition
Deciding on the most important rhythmic compositional elements within the photograph
Creating texture with paint by using a brush, palette knife and plastic bags
Painting multiple versions of the colour white to add variety and depth to the lighter sections of the image
Glazing and highlighting
The location:
Newcastle Arts Centre offers you some of the best art studio facilities in the North East region. It also has on site an art shop, a craft shop, an art gallery, a framer and Café to relax in and grab a coffee and bite to eat after class. The studios are situated on the 2nd floor with lift access provided for those who have mobility issues. The building housing the studios is accessed though the courtyard entrance. The entrance is situated below the yellow building to the right of Newcastle Arts Centre's frontage seen in the photographs.
See panel on right for photos, Maps and directions
What will you need to bring to the first session ?
Your acrylic painting kit including: drawing paper, watercolour or acrylic painting paper, palette, water pots, paints, brushes, masking tape, kitchen roll and a pencil and pen. Jason will advise you each week about the materials you will need for the following session. Anyone unable to attend a lesson should contact him by email and he will advise them on the the materials of reference material needed for the following class.
Please bring images of the sea. These can be paintings or photographs
Jason will have some images of the sea you can work from, but you may wish to work from your own reference material.
Email contact info@jasonskill.com
How can you book a place on the course ?
By clicking on the BUY NOW button below and following the payment procedures you will book your place on the course.
Why not buy this workshop as a gift for friends and family this Christmas?
Course costs £68
If you are unable to purchase the course online then please send a cheque for £68, made payable to: Painting with Skill LTD to…
Places will be allocated on a first come first served basis. To avoid disappointment – book early
Painting With Skill Limited, Company No. 5763767, a company registered in England and Wales. Registered address: Sikehead, Woodside Lane, Ryton, Tyne and Wear, NE40 3ND