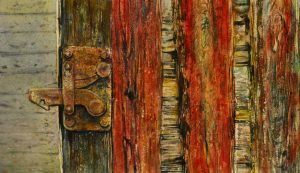 'The Old Barn Door' – Watercolour by Jason Skill

I am often drawn to the small details in a landscape like an old decaying sign, or lichen on rocks. The effects of age and decay can be beautiful to look at on some materials and surfaces. Many photographers, both amateur and professional, also love to capture 'close up' views of the world, capturing all kinds of objects, presenting them to us as little marvels. Many modern watercolour artists are also inspired by macro photography. 'Close up' paintings allow them to show off their technical skills when they paint with a photographic level of detail. Contrary to popular belief, this kind of watercolour does not have to take an age to produce. There are a number of 'quick fix' methods that mimic the look of detail and texture, avoiding hundreds of hours of painstaking small brush work.
This ten week course will show you a broad range of methods and tricks used by 'close up' image painters so that you can produce a detailed artwork of your own. It will also show you how to plan and layer the work to make you a more efficient artist.
Looking through the photographs on my computer, I found a good number of 'close up' images taken by my myself and my children when they were in their teens. These 'arty' photographs show an interest in the small details in places we have visited or objects around the house. Now that cameras are built into our phones, the gathering of reference material for artwork like the painting above has never been easier. A selection of these photographs can be seen below:

'Close up detail – fast and effective watercolour methods'
Wednesdays from 1:30 till 3:30 pm
Costs £136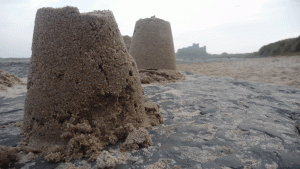 Length of the course – 10 weeks
Starts 2nd of May 2018
Refreshments – tea and coffee is included.
Level – suited to those who have some experience of watercolour painting. Not recommended for total beginners
Dates to attend:
2nd, 9th, 16th, 23rd of May
No Class on 30th – schools half term break
6th, 13th, 20th, 27th of June
4th, 18th of July
What will you need to bring to the first session?
Your watercolour painting kit including: drawing paper, watercolour paper, palette, water pots, paints, brushes, masking tape, kitchen roll and a pencil and pen. In addition you will require a small piece of sand paper and a palette knife.
Jason will advise you each week about the materials you will need for the following session. Anyone unable to attend a lesson should contact him by email and he will advise them on the papers needed for the following class.
Email contact info@jasonskill.com
The location
Newcastle Arts Centre offers you some of the best art studio facilities in the North East region. It also has on site an art shop, a craft shop, an art gallery, a framer and The Jazz Café to relax in and grab a coffee and bite to eat after class. The studios are situated on the 2nd floor with lift access provided for those who have mobility issues. The building housing the studios is accessed though the courtyard entrance. The entrance is situated below the yellow building to the right of Newcastle Arts Centre's frontage seen in the photograph below.
See panel on right for details of the venue with Maps and directions
How can you book a place on the course ?
Course cost – £136
By clicking on the BUY NOW button below and following the payment procedures you will book your place on the course.
Why not buy this workshop as a gift for friends and family ?
If you are unable to purchase the course online then please send a cheque for £136, made payable to: Painting with Skill LTD to:
Places will be allocated on a first come first served basis. To avoid disappointment – book early.
Painting With Skill Limited, Company No. 5763767, a company registered in England and Wales. Registered address: Sikehead, Woodside Lane, Ryton, Tyne and Wear, NE40 3ND