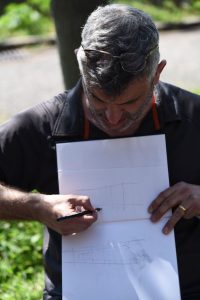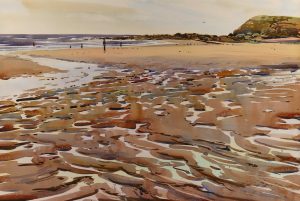 Throughout the summer Jason is offering sketching and painting lessons out of doors.  This is your opportunity to work alongside Jason, who will demonstrate methods of capturing the scene for you to try. 
Many of us would love to take our painting kit or sketch books and paint / draw when we are out and about, but feel self conscious or are a little afraid of painting on our own. Working in a group outdoors offers strength in numbers and can bolsters your confidence. 

New sketching and painting locations  posted in the next few days .
How much does it cost?
£25 for the day. Days out  run from 10:30 – 3:00

How do you pay?
Online here or with a cheque payable to Painting with Skill, sent to Jason Skill, Sikehead, Woodside Lane, Ryton, Tyne and Wear, NE40 3ND
Do you need to book the class?
Yes.

How will I know where to go?
Each of the days out will list the locations where you meet Jason and the others students
What if the weather is poor?

We are always going to be ruled by the weather. If it is raining or we have high winds Jason will not be going. Otherwise he will be teaching. Check the weather forecast. 
If the forecast is poor he may cancel the session. If the class is cancelled, he will contact you the night before by email using the address you provided when purchasing the course online. Check your email before you set off in the morning. If you purchase the painting / sketching day by post using a cheque, please remember to include your contact details or he will be unable to inform you of a cancelation.

You will be refunded for classes Jason has to cancel due to poor weather.
Lost or unsure about the weather
If you need clarification as to the location of the venue or the weather forecast then you can phone Jason on 07482470197
What will you need to bring with you?
I have made two lists, one for sketchers and one for painters below:
Sketching out outdoors kit list
This list in intended to help you make informed choices about the material tyo take with you. Please don't feel inlined to go out and buy all the materials listed.
Portable chair – these are now light and portable, caried in an bag over your shoulder. You may want to sit in a particular spot where there is no seating.
Bum warmer –  if you don't take a chair, its a comfortable alternative and it keeps your bum warm. these can be bought at camping and walking shops.
A small hard backed sketch book  – I would suggest small enough to go in a large jacket pocket . I would make sure that the paper is reasonably smooth and strong. In very low costs pads the paper is sometimes very soft to the touch – feels a bit like toilet paper.  I would avoid this type of paper, as it can be unpleasant to draw on and watercolour soaks too quickly into the paper surface. If you are a keen scribbler and think you will produce a lot of drawing then consider bringing 2 sketch books.
Propelling pencil  –  Faber Castel TK 940 – 4b of 6b – this is a heavy duty pencil that will work well for shading and drawing out images
Propelling pencil – Pentel  0.9 – this is a fine pencil with an erasure at one end.  Plus replacement 0.9 leads.
or
If you do not like propelling pencils then just buy a 2b and 4b, standard graphite pencil, plus a pencil sharpener and erasure.
Plus water soluble graphite pencil  –Faber Castel graphite aquarelle  6b or 8b
2 non-permanent fine liners – Edding 150s – This type of pen will be soluble and consequently fun to blend with a brush and water.
A brush pen.  Derwent  and Pentel make these. This is a nylon brush with a refillable reservoir tube that you fill with water. The brush has a cap to reduce leakage.  This type of brush means you do not have to carry a water  bottle and water pot.
Portable watercolour pan set.  If possible, this should be small enough to hold in your hand or comes with a thumb ring so that you can balance it or your thumb and forefinger.
A small backpack  – large enough to hold the bum warmer plus sketching kit
Please note – if you are attending as a couple, I would have enough kit to work independently. You may not want to draw the save view
Optional additional kit – black Pentel colour brush,  This is an ink filled brush pen that some outdoor sketchers love to use.
Sun hat – sun cream
Something warm to wear in case you get cold – this can happen if you sit still for long periods 
Don't forget somethimng to eat and drink.
Outdoor painting Kit
This list in intended to help you make informed choices about the materials you take with you. Please don't feel inlined to go out and buy all the materials listed.
Once you have assebled your outdoor painting kit – Check that you can carry it all. If that is going to be difficult – then re-consider what is essencial to take with you, or you will have to repat making trips back to your car leaving some of your painting kit on location.  I have made some notes to the side of the items listed which you might find helpful to cut doen the kit.
Watercolour and drawing paper – you need a bag to carry your paper  in so that you can be kept dry.
Drawing board – you may find that working on a pad that has paper glued rounbd the edges would enablre you to not have to take a drawing board.
Masking tape – not needed it using a pad noted above.
Brushes – you don't need all your brushes. You will need a wash brush and a few brushes of different sizes and shapes.
Pencil and erasure
Water pots
Palette – you could take a portable pan set , but this might not be how you normally work and could feel alien and restrictive.
Water bottle – not huge because water weights a great deal. i would say a pop bottle about half full.  

Kitchen roll – dont need the whole roll, just a few sheets.
Painting easel – if you take a seat, you might prefer to work with a board on your knee it you dont want to take this.
Portable seat –  if you stand up to work on the easel you dont need to take the seat, but it is nice to sit down.
Portable table – this is very useful if you want to keep your painting kit off the groubnd and reduce the chances of loosing materials, but a table is a luxury you could de without. note that if you intend to work standing up a table beeds to be high. If you work sitting down the table needs to be low. Campling shops have some very light weight portable folding tables.
Sun hat – keeps you warm, keeps the sun off.
Sun cream
Something warm to wear in case you get cold – this can happen if you sit still for long periods 
Don't forget somethimg to eat and drink.
Painting With Skill Limited, Company No. 5763767, a company registered in England and Wales.
Registered address: Sikehead, Woodside Lane, Ryton, Tyne and Wear, NE40 3ND