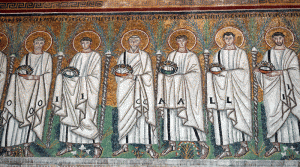 Jason Skill (artist and art teacher) and Antonella Rea (language tutor) are intending to run an educational holiday for those interested in drawing, sketching, arts and speaking Italian.
This holiday will take place in Ravenna. The mornings will be spent either sketching with our resident artist Jason Skill or attending a language course at Palazzo Malvisi, a well renowned school, specialising in teaching Italian to adults.
In the afternoons Antonella and Jason will take both groups to discover some of the less known sights of the city and admire the splendid Byzantine mosaics beautifully preserved in various churches and monuments across the city. Many of these mosaics and building are listed as World Heritage sites.
We will be flying British Airways from Newcastle International Airport to Bologna on Friday 28/09/18 and coming back on Friday 05/10/18
Full details found on the holiday section of this blog